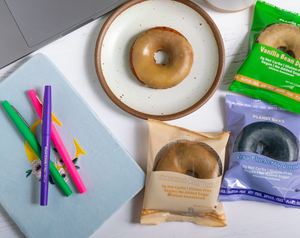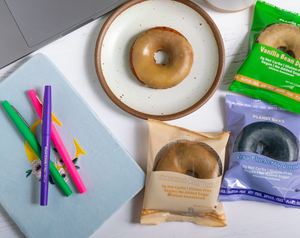 Sugar-Free + Vegan + GF + Kosher
GOOD FOR YOU
NOTHING EVIL
We do not use artificial flavors, colors, binders or fillers, no gums, no chemical or artificial sweeteners. Our products are made without preservatives, no dairy, no eggs, no gluten, no peanuts and no refined sugars.
Selected carefully
Health beneficial ingredients
At Planet Bake we only use the highest quality of non-gmo ingredients that are health beneficial to our bodies.
How We compare to other brands
What Customers Say About Us
★★★★★

I finally found a clean, low carb treat to tame my sweet tooth. Most companies offer bland tasting baked goods, but these are delicious. Will definitely reorder!

Ashley K.

St Temecula, CA
★★★★★

Simply the best!!! As a vegan and diabetic, I haven't been able to enjoy a donut for so many years--35! I am in love with Planet Bake. They have given me a special treat that is a highlight of my life. The only problem is I would love to eat them all when they arrive. I will be good though and save them so I won't run out. Blessings on Planet Bake for caring and for bringing some good to this world.

Holly M.

Prescott Valley, AZ
★★★★★

These donuts are all really moist. Wonderful tasting, and on top super healthy! One of my two favorite flavors are the real vanilla bean and the coconut cream filled donut. These really helped me with cravings throughout my pregnancy and keeping the baby healthy and happy :)

Sangmi P.

New York City, NY
★★★★★

These donuts are delicious! The vanilla is my favorite, it has no bitter aftertaste. The ingredients used for these donuts are incredible and they are low carb.

Kaylin G.

Simpsonville, SC
★★★★★

Wow is all I can say. This decadence melts in your mouth. The consistency, smell, texture, and chewiness is spot on. The flavor is phenomenal, tastes exactly like a basic vanilla donut if not even more flavorful and rich. The ingredients are just awesome, especially for something like this. No sugar, Vegan, Low net carb, Gluten-free is a big win. HIGHLY HIGHLY RECOMMEND!!!!

Victoria S.

New Jersey
★★★★★

Blown away ! I'm the type of guy that orders and tries almost any "healthy junk" food that's on the market - always trying to find something that tastes great while being good for you. Most of the time, the snacks or foods I order taste bland, OK, "too healthy" or are unsatisfying - but not the case with Planet Bake! Their donuts taste delicious and like you are eating a real deep fried donut made with refined sugar, flour, and dairy - but in reality, they are low carb/keto friendly, vegan, baked and I couldn't even tell - that's when I found a great "healthy junk food." They taste fresh, well made, hit the spot, and deliver quickly. Still trying all flavors but really like the Dark Chocolate the most so far. Highly recommend if you are trying to eat better but still want to be able to enjoy a healthier version of donuts without the feeling like you are sacrificing anything - because the taste, quality and flavor is there.

Steve. S.

New York
★★★★★

I bought 3 kinds of Keto donuts and all of them were beyond amazing. So rich and satisfying, it was completely worth the price.

Kolleen S.

Los Angeles, CA
★★★★★

Ordered donuts for myself and my brother (in IL and NE, respectively) and both arrived without issue. Happy to find a (not-too) sweet vegan treat!

Nora C.

Illinois
★★★★★

I finally found a clean, low carb treat to tame my sweet tooth. Most companies offer bland tasting baked goods, but these are delicious. Will definitely reorder!

S.C.

California
Subscribe and save 10% and more
Get Started And Save
$5 Off Your First Order
Sign up for our Newsletter and Take $5 Off Your First Order
sign up below